Breaking every mans heart, again!)... SHANIA TWAIN IS ENGAGED

Shania Twain is engaged to Swiss executive Frédéric Thiébaud.

Sources say, "They've been engaged a couple months."

Frédéric popped the question with a three-carat solitaire diamond ring.

They grew close after Shania's husband of 14 years, music producer Robert "Mutt" Lange left her for another woman in May 2008. The affair was between Lange and Frédéric's then-wife, Marie-Anne, a longtime secretary and manager of the couple's chateau in Switzerland.

(FYI: Mutt Lange denied an affair).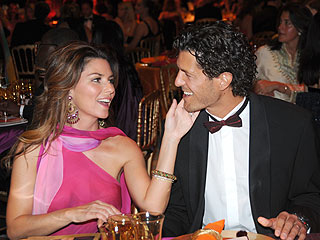 A friend says: "Shania and Fred are a couple that fit together."
Source

BTW: Shania has an autobiography due out in the spring and she is scheduled to have her own show, Why Not with Shania Twain, on Oprah Winfrey's television network OWN, which launches New Year's Day.