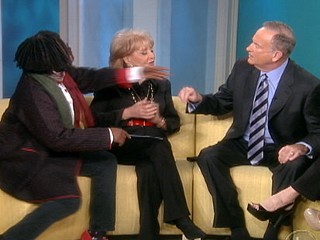 Things got so heated yesterday between Fox News host Bill O'Reilly, and 'The View' co-hosts Joy Behar and Whoopi Goldberg, that the women walked off the set.
The topic was the proposed Islamic cultural center near Ground Zero. O'Reilly said President Obama's qualified support of the center was evidence of the "gulf" between him and the American people.
Joy said, "We're Americans! We agree with him!"
Bill said, "70% of Americans don't want that mosque there. So don't give me the we business!"
When Joy asked, "Where's that poll?"
O'Reilly fired back with why he thinks that the mosque is inappropriate, saying: "Because Muslims killed us on 9/11."

Whoopi spit out a phrase that was bleeped from the broadcast. Joy stood up and said, "I don't want to sit here. I don't." She walked off stage and Whoopi went with her.
Barbara Walters wasn't happy that they walked off. She said, "We should be able to have discussions without washing our hands, and screaming, and walking offstage."
BTW: Whoopi and Joy DID return to finish the interview.