I'm feeling great!! Can you believe it? I thought I would be starving and begging for food like a dog (too much??) hahah
Anyways...I'm still surprised that I'm not thinking about food more. It's actually getting easy. Yes it's hard when I go to my parents house and my dad is cooking steaks or chicken on the grill but I know I only have a couple more weeks to go. Then I can get back to eating meat.
If I do want a little steak one night. That's ok too but I'm trying to see how long I can go without meat. (I know...crazy right?)
So yesterday this is what I ate:
Morning:
Fresh squeezed OJ (not the greatest since it was in a blender but still better than nothing)
banana
apple
4 Walnuts
Snack:
YES I HAD DESSERT! It was small but It was 5 days without any sweets, actually it could have been even more than 5 days. I don't have a huge sweet tooth. It's mainly salty things.
Lunch:
Salad with Vinigrette Dressing (Light on dressing)
10 Snow Peas dipped in avacado mush (ya I made it up...I needed something worth dipping)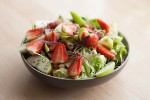 photo credit: Menu Pix
Dinner:
Veggie Soup (1 Cup)
Green beans (1 bowl)
Piece of Swiss cheese (I needed a little calcium and I love cheese)
So that was it. Not so bad huh?
and I'm not starving or depriving myself from eating anything. If you want it, eat it. Just do so in moderation. I think we all struggle with that.
Alright...
Tiime to eat an Apple. YUM (hence the sarcasm)
oh and I see the scale drop. Thank goodness. I gotta look awesome for my friends wedding in Summer.
-Jess Kelley