Hmm....I guess I didn't know they had their own pudding recipe! ha
But Zac's personal chef makes this.
Here is the recipe: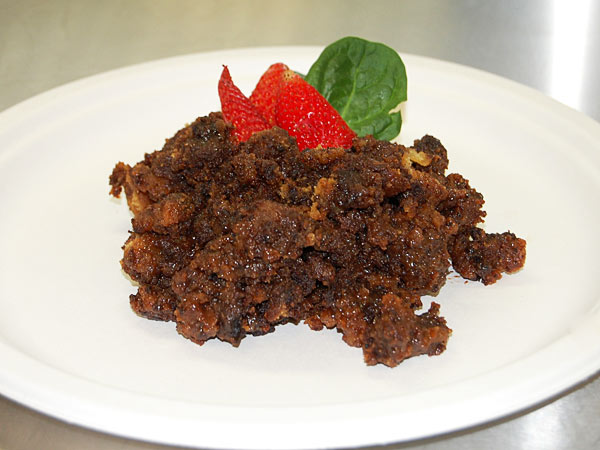 Photo via Zac Brown Band

Ingredients
• 8 lg. homemade biscuits
• 1 ½ cup. heavy whipping cream
• 1 cup half and half
• 3 cups white sugar (reserve 1 cup to sprinkle on top before cooking)
• 2 cups Semi Sweet Chocolate Chips
• 2 eggs
• 4 tbs. melted butter
• 1 cup peanut butter



Jack Daniels Honey Sauce
• 12 oz. condensed milk
• 4 oz. Jack Daniels Tennessee Honey
• ½ tbsp. cinnamon
• ½ tsp. ground cloves


Directions
1. Crumble homemade biscuits leaving medium sized chunks in a large mixing bowl.
2. Beat eggs and both creams together and add to biscuit mix.
3. Add remaining ingredients for the pudding and mix well.
(Tip: biscuit size and weights may vary. The pudding mix before baking should be chunky enough to hold the chocolate chips but moist enough to take form to the pan. If it is too dry add more half and half, if it is too runny add more biscuits.)
4. Place in a 9-inch x 13-inch baking dish and top with remaining sugar.
5. Bake at 400 degrees covered for 45 minutes – 1 hour. Middle should be firm and not runny.
6. Then bake uncovered for 10-20 min to brown the top.
7. While pudding is baking prepare the Jack Daniels Honey Sauce by adding all ingredients and warm.
8. Ladle the Jack Daniels Honey sauce atop before serving and garnish with any of the following: fresh berries, vanilla ice cream, caramel sauce, créme fresh or bananas.