Alright by no stretch is this going to be a political blog. I don't care if you like Obama, Romney, Ryan or Biden. You could make arguments for and against either one of them. Personally I think the ideal President is either Bill Pullman from Independence Day or Martin Sheen in West Wing. So this isn't going to be about campaign finance reform, or the war on terror, or any other things I just read when I googled 'political terms.' This is going to be about revamping the debate format so that it doesn't have the same effect as three shots of Nyquil. And it starts with my man Jim Lehrer up here. I mean talk about over-matched. Guy looked horrified from the word go. If you took a shot for every time he said 'two minutes' and you're alive this morning I salute you. And nothing against him personally, I'm sure his show on PBS is well balanced and informative. But this isn't Jerry Lewis telethons and repeats of the Joy of Painting anymore. This is a Presidential Debate. So without further adieu I present to you a small list of people I think should be moderators of debate #2.
5. Stat Boy
Not only does he have a long history of getting in-between Kornheiser and Wilbon on PTI, he could bring his mute button and those old computer joysticks to award points so everyone knows who is winning. Actually the whole debate format could steal from PTI. Every topic gets 2 minutes, take mail questions from citizens, and wrap it up by waving the Canadian flag in a neat 22 minute show.
4. Oprah
Not only does she probably run the country/world already, there's just no shot anybody interrupts her or goes over time. Plus every audience member would get a new car.
3. Ron Swanson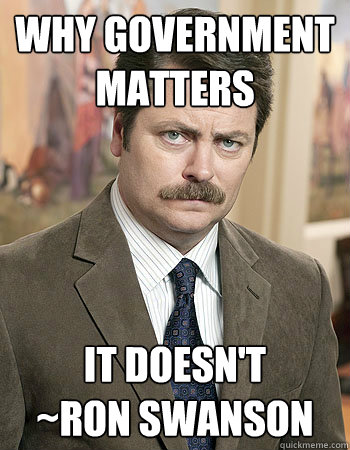 Picture sums it up. Plus a killer mustache.
2. Kate Upton
Truth be told I have no reason for her. But anyone googling 'kate upton' just got sent to this blog. Interneting 101.
1. Jim Ross
Total no brainer. If you can get past him constantly pushing his barbecue sauce on the air he's the logical pick. Hell throw Lawler in there too so he can scream 'Puppies!' for no reason. Bottom line is everything is better with WWE influence. As far as I'm concerned the candidates should come out to intro music with Howard Finkle introducing them. Then if they both tank let that glass shatter, have Stone Cold come out and stun them both and chug beer on the podium as the night ends. Then Jim Ross can just scream 'BUSINESS IS ABOUT TO PICK UP!' and 'STONE COLD! STONE COLD! OH MY GOD IT'S STONE COLD'
You're welcome America.
PS: In all seriousness the fact that Gary Johnson isn't being allowed to debate should anger everyone.