The Sheboygan Bridal Showcase 2014 will be held at the John Michael Kohler Arts Center on Thursday, January 16th. Doors will open at 5:00 pm. This year there will be two fashion shows to choose from; the first at 5:45 pm and the second at 7:45 pm. For more information about the showcase, please explore the links below.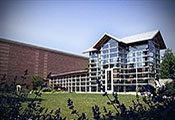 More about the venue and ticket information.

Tips and guides to help you through the showcase.

Stay in the know on event details.

From cakes, to dresses, to venues & beyond!

Answers to Showcase Frequently Asked Questions