« All Events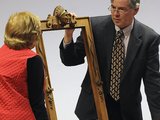 What's It Worth? An Antiques Appraisal Event
When:

Sun, March 16 , 1 PM - 4 PM

Where:

W7965 Highway 23, Greenbush WI 53026

Categories:
Event Details

Wade House Historic Site will host an exclusive antiques and collectibles appraisal event featuring author and antiques expert Mark Moran. Moran, who has been a guest expert on the popular PBS series, Antiques Roadshow, will discuss his experience in buying and selling antiques for more than 30 years and appraise one item for each registered participant.

Cost Details

Pre-registration is required, and there is a $15 per item appraisal fee. Pre-register by calling the Wade House at 920-526-3271.