« back to Movies
Army of Darkness
Release Date: None
Genres: Action/Adventure, Comedy, SciFi/Fantasy
Cast: Bruce Campbell, Embeth Davidtz, Marcus Gilbert, Ian Abercrombie, Richard Grove, Timothy Patrick Quill, Michael Earl Reid, Bridget Fonda, Patricia Tallman, Ted Raimi
Directors: Sam Raimi
Distributor: Universal Pictures
"Army of Darkness" is a story about a man who goes through a time warp and finds himself in England in the 1300s. With fighting going on all around him, he must locate the Book of the Dead in order to return to the present day.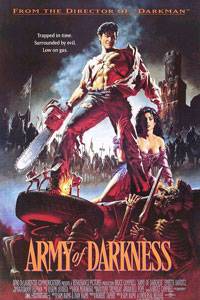 Show Times / Buy Tickets
There are no current showings for Army of Darkness in this area.