« back to Movies
The Hobbit: An Unexpected Journey in HFR 3D
Release Date: None
Genres: Action/Adventure, SciFi/Fantasy
Cast: Ian McKellen, Martin Freeman, Richard Armitage, Ken Stott, Graham McTavish, William Kircher, James Nesbitt, Stephen Hunter, Dean O'Gorman, Aidan Turner
Directors: Peter Jackson
Official Site: http://www.thehobbit.com/index.html
Distributor: Warner Bros.
The adventure follows the journey of title character Bilbo Baggins, who is swept into an epic quest to reclaim the lost Dwarf Kingdom of Erebor from the fearsome dragon Smaug. Approached out of the blue by the wizard Gandalf the Grey, Bilbo finds himself joining a company of thirteen dwarves led by the legendary warrior, Thorin Oakenshield. Their journey will take them into the Wild; through treacherous lands. Bilbo Baggins not only discovers depths of guile and courage that surprise even him, he also gains possession of Gollum's "precious" ring that holds unexpected and useful qualities... A simple, gold ring that is tied to the fate of all Middle-earth in ways Bilbo cannot begin to know. Presented in HFR 3D.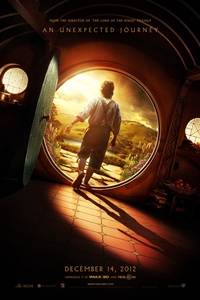 Show Times / Buy Tickets
There are no current showings for The Hobbit: An Unexpected Journey in HFR 3D in this area.