« back to Movies
Fill the Void (Lemale et ha'halal)
Release Date: None
Genres: Drama
Cast: Hadas Yaron, Yiftach Klein, Irit Sheleg, Chaim Sharir, Ido Samuel, Razia Israeli, Hila Feldman, Renana Raz
Directors: Rama Burshtein, Yigal Bursztyn
Official Site: http://sonyclassics.com/fillthevoid/
Distributor: Sony Pictures Classics
An intimate, insightful, respectful and moving film which follows life among the ultra-Othodox Haredim Jewish community in Tel Aviv, Israel. The well-to-do family of Rabbi Aharon suffers a tragedy when his daughter Esther dies in childbirth. A younger daughter, Shira, 18, is pressured by her mother to marry her deceased sister's husband.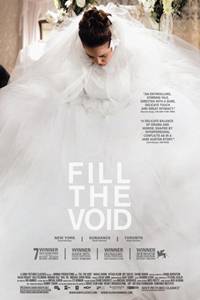 Show Times / Buy Tickets
There are no current showings for Fill the Void (Lemale et ha'halal) in this area.