« back to Movies
Arthur Newman
Release Date: None
Genres: Romance, Comedy
Cast: Emily Blunt, Colin Firth, Anne Heche, Sharon Morris, David Andrews, Anthony Reynolds, Kristin Lehman, Phillip Troy Linger, Sterling Beaumon, Autumn Dial
Directors: Dante Ariola
Official Site: http://arthur-newman.com/
Distributor: Cinedigm
Wallace Avery is tired of his life. Divorced, disconnected from his son, dissatisfied with his love life, he decides the time has come for a radical solution. He literally walks away from his life, buys himself a new identity as Arthur Newman, and sets out toward his own private Oz - Terre Haute, Indiana - where he believes he has a chance to work as a golf pro. Wallace's idea of a second chance is to become a second person. His road trip is derailed by the entrance of Michaela Fitzgerald, whom Arthur discovers passed out poolside at a motel. It takes her all of a couple hours to bust Arthur's identity scam. It takes Arthur a lot longer to bust hers.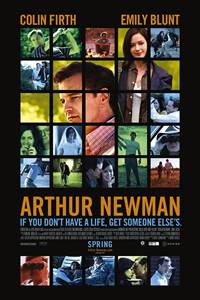 Show Times / Buy Tickets
There are no current showings for Arthur Newman in this area.