« back to Movies
UNSTOPPABLE A Live Event with Kirk Cameron
Release Date: None
Genres: Program
Cast: Kirk Cameron
Directors: Darren Doane
Distributor: NCM Fathom
Join Kirk in his inspiring investigation into the moral origins of good and evil, their inspirational value and their historical significance to us today. UNSTOPPABLE promises to bring families and communities together with a big picture view of how we can live victorious lives in the face of adversity, changing our world for good. Broadcast LIVE from Liberty University, the evening will begin with special guest appearances PLUS a special introduction from Kirk, as he shares his heart for UNSTOPPABLE, which he calls his "most personal project ever."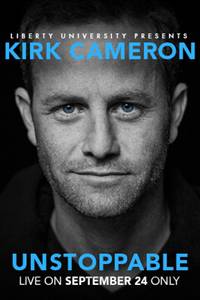 Show Times / Buy Tickets
There are no current showings for UNSTOPPABLE A Live Event with Kirk Cameron in this area.