« back to Movies
Random Desi Romance (Shuddh Desi Romance)
Release Date: None
Genres: Romance, Comedy
Cast: Sushant Singh Rajput, Parineeti Chopra, Vaani Kapoor, Rishi Kapoor
Directors: Maneesh Sharma
Official Site: http://www.facebook.com/shuddhdesiromance
Distributor: Yash Raj Films
Shuddh Desi Romance is a fresh rom-com about the hair-raising minefield between love, attraction and commitment. The movie is based in today's modern yet desi heartland. Sushant Singh Rajput plays the role of a casual "Boy-next-door" Raghu and Parineeti Chopra plays the bold role of Gayatri - his lover. Vaani Kapoor portrays the role of a girl named Tara, who is also a lover of Raghu.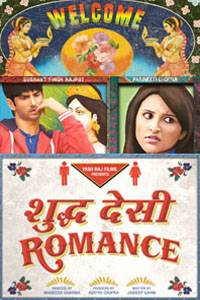 Show Times / Buy Tickets
There are no current showings for Random Desi Romance (Shuddh Desi Romance) in this area.