« back to Movies
Acquire the Fire Presents: Surge
Release Date: None
Genres: Program
Official Site: http://www.surgeexperience.com
Distributor: Screenvision
This is a high-energy interactive movie theater event that fuses music, comedy, and inspirational messages creating a moment where young people and those who believe in them fill theaters across North America. This program features empowering and inspirational messages by Ron Luce interwoven between the hilarious comedy of John Grey and musical performances by award-winning Christian artists Casting Crowns, Newsboys, Lecrae and worship artists Acquire the Fire live. This film creates an evening that will inspire, entertain and empower generations looking to make a difference.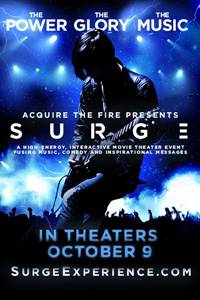 Show Times / Buy Tickets
There are no current showings for Acquire the Fire Presents: Surge in this area.