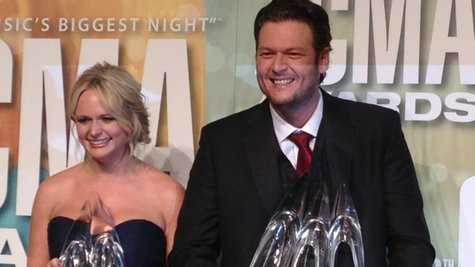 It typically takes a couple weeks after the CMA Awards for the winners to get their customized trophies, and by the time the Song of the Year statue arrives, Blake Shelton says he and Miranda Lambert will have its spot ready.
"It will have its own shelf. It'll have like spotlights on it, and an alarm and everything. Trip wires. There will be landmines if you walk towards it," Blake jokes. "All that stuff. It's a real big deal to Miranda and I."
Blake goes on to say the award is particularly significant to Miranda, since she considers herself a songwriter first.
The two wrote "Over You" about the death of Blake's older brother in a car accident. "That is as personal as I can get," he adds.
Copyright 2012 ABC News Radio