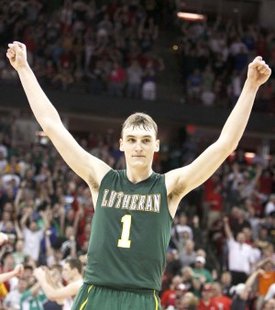 MADISON, WI (WHBL) - Sheboygan Lutheran High School alum Sam Dekker, the state's fourth all-time high school scorer, continues to adjust to the college game with the Wisconsin Badgers. He had a season-high 19 points off the bench against Arkansas on Saturday and he's third among Big Ten freshman with 11-and-a-half points a game. Dekker is also third on the Badgers in scoring, but he says he should be playing better defense by now. Dekker says he's had trouble adjusting to the Badgers' help-side defense, and getting players around curls. But he's getting more comfortable with the system each day. Some fans wonder why Dekker's not starting, but he accepts his role, and he says he's embracing the opportunity to play for Wisconsin.
Meanwhile, the Badgers will host Virginia tonight in the Big Ten-A-C-C Challenge. Both teams are 4-2. The Badgers are coming off a seven-point win over Arkansas at the Las Vegas Invitational, in which they overcame an 11-point deficit at halftime. The Badgers are 6-7 in their annual challenge against A-C-C teams, but they're 4-1 in Madison. The game also marks the return of former Badgers' assistant Tony Bennett, who's now the head coach at Virginia.
Coverage of the game on WHBL begins at 5pm. Tip-off is set for 6 o'clock.