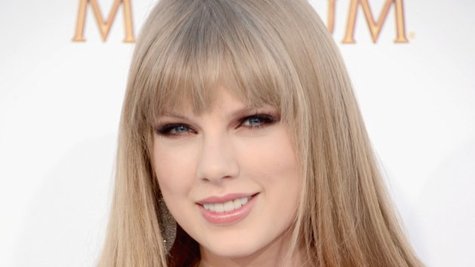 Taylor Swift is one of Esquire magazine's "Women We Love," and she spilled a few more details on her new album Red in an interview for their November issue.
Taylor says the new project is a "sonic departure" from what she did on her previous album, Speak Now. That new approach can definitely be heard on Red 's lead single, "We Are Never Ever Getting Back Together," which topped Billboard 's Hot 100 chart for three weeks.
But even though "We Are Never Ever Getting Back Together" is one of Taylor's patented breakup songs, she says there's more to her music than that. Asked by Esquire , "Do you worry what you'll do when you run out of breakups to write about?" Taylor responds, "This is breaking news, but there are a few happy songs on this album. I do explore the emotion every once in a while."
She adds, "I'd like to think you don't stop being creative once you get happy. My ultimate goal is to end up being happy. Most of the time."
When asked if she ever warns her boyfriends that they could end up in a song, Taylor answers, "No. If they stick around, then great, they're kind of like signing a release form."
Esquire also wanted to know if Taylor is interested in some of the other things they write about...like, for example, good Scotch. Taylor's answer? "I don't drink much alcohol. If it doesn't taste like candy or sparkles, I usually don't drink it."
The singer adds that she does drink "wine, sometimes, because it makes me feel classy, but not Scotch. Not yet."
Copyright 2012 ABC News Radio