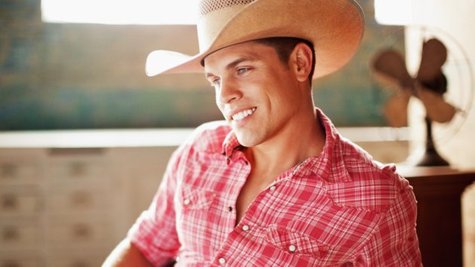 Dustin Lynch was actually in Las Vegas Wednesday morning when he learned of his two American Country Awards nominations for "Cowboys and Angels." Dustin is mentioned in the Single of the Year - New Artist and Video of the Year - New Artist categories, and these are his first nominations at any awards show.
He says, "Wow, wow, WOW!!! Thank you to the ACAs, Country Radio and all of my friends and fans that believe in me and my music. This is truly a dream come true."
Dustin woke up to the good news in his Sin City hotel room after playing a show at Green Valley Ranch the night before.
He adds with a laugh, "My apologies to everyone who woke up to a guy screaming in his underwear in the hotel hallway. That was me!!"
A few other country stars shared reactions to their ACA nominations:
Carrie Underwood is up for four ACAs this year, and she's already been nominated for two American Music Awards this week too. Carrie tweeted Wednesday , " Four ACA nominations?! Are you kidding me? Thanks so much!!! Wow! Another great news kind of day! #seriouslyblessed"
Gloriana scored three nods on the strength of their hit "(Kissed You) Good Night," and the band released a statement saying, "We couldn't be more honored and excited to receive these ACA nominations. It's been a truly incredible year for us as a band with releasing our second album and then to watch the support and excitement that '(Kissed You) Good Night' has received is just amazing.
Fan voting for the American Country Awards is now underway at TheACAs.com . The show airs live on Fox Monday, December 10 at 8 p.m. ET.
Copyright 2012 ABC News Radio