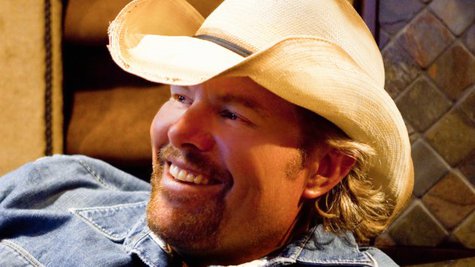 You probably wouldn't expect to hear Toby Keith while on the dance floor at a trendy nightclub, but he actually had to make a dance mix of "Red Solo Cup" for club play once it took off on the pop charts. The dance mix is included in the deluxe edition of his new album, Hope on the Rocks .
You won't hear Toby cranking up his dance mix though. He says, "I hate remixes, and never have liked 'em. They're necessary if you're gonna play in the high end, rave-type clubs."
Toby agreed to the "Red Solo Cup" remix so club DJs could mix it in seamlessly between dance hits by the likes of Michael Jackson or Lady Gaga . Otherwise, they'd have to play the original version and break the flow on the dance floor.
Even though he dates dance mixes, Toby took a hands-on approach when it came to the dance version of "Red Solo Cup."
"When I pick out a remix thing, it's kinda like, I'm not gonna like any of 'em, 'cause I'm not a fan of it, but it's a necessary thing people want and do," Toby syas. "So, I kind of pick out the one that irritates me the least."
Toby also has a remix of his recent single "Beers Ago" on Hope on the Rocks Deluxe Edition, in stores October 30. The lead single from the project, "I Like Girls Who Drink Beer," is now climbing the country chart.
Copyright 2012 ABC News Radio