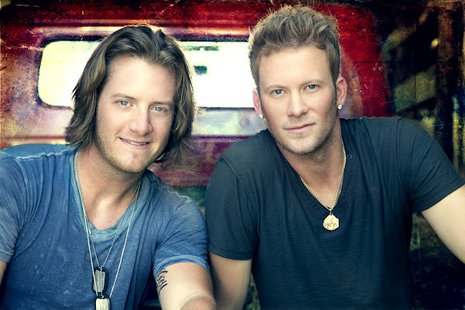 New duo Florida Georgia Line is tearing up the country chart with their debut single, "Cruise." It's already been certified gold for selling 500,000 copies. The musical spark heard on the track between the duo's Brian Kelley and Tyler Hubbard was apparent when they started writing songs together after both graduating from Nashville's Belmont University.
Brian tells ABC News Radio, "Everything kind of came so natural and so easy. I mean, friends, music, hanging out. It just was like, we kinda just got each other."
The idea for Florida Georgia Line's name originally came from where the duo members grew up. Brian hails from Ormond Beach, FL, while Tyler grew up in Monroe, GA. There's a deeper meaning to the name, though.
"Florida Georgia obviously represent where we're from and what we do," Brian explains, "but the line kind of represents where we meet in the middle creatively as friends musically."
Florida Georgia Line is on the road with Jake Owen this fall. They're set to open on Luke Bryan' s Dirt Road Diaries tour starting in January.
Copyright 2012 ABC News Radio