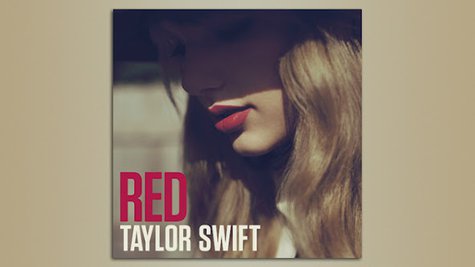 Taylor Swift returns with her fourth album, Red , which comes out around the world Monday. The project features 16 songs mostly dealing with Taylor's favorite subject: love.
Though she won't reveal who actually inspired the intense emotions packed into these songs, Taylor covers a wide range of feelings on Red, including heartbreak and anger. Those are evident in songs like the title track and the lead single "We Are Never Ever Getting Back Together." She's hopeful about romance in the closing track "Begin Again," and shows her reckless side in the song "22," Taylor's current age.
"22" is based on Taylor's experiences hanging out with girlfriends and flirting with guys this past summer -- presumably, one of those guys was her boyfriend, Conor Kennedy . Though she was busy during the day working on Red , Taylor took time out at night to have fun while the temperature it was still warm outside.
She tells ABC News Radio, "The song '22' is about that feeling of like, 'We are young, we have no idea what we're doing. We have no idea who we're going to end up with. That guy looks like he's gonna be really bad for me. That one!' You know?"
When choosing the title for the new album, Taylor felt Red captured all of the emotions that inspired these new songs. It also provided some exciting ideas for what she might do when she launches her tour promoting the album, expected to start in 2013.
"I just think it's a really daring color," Taylor says. "I think to me it represents adventure. It represents passion and intensity, and it's just so many things as a color emotionally. I just felt like we could go so many places with it."
Taylor dared herself creatively on Red too by working with some of her favorite musicians and producers. She wrote every song on her last album, Speak Now , alone, so collaborating with new people helped push her out of her comfort zone.
Taylor says, "I figured, I'm 22. I want to get in the studio with people who have done this longer than I have who make music in a different way than I do, and I want to learn."
Taylor's collaborators on Red include Swedish producers Max Martin and Shellback , who've worked with everyone from Pink and Britney Spears , to Maroon 5 and Usher . She also teamed up with Gary Lightbody of Irish band Snow Patrol to write and sing a duet on "The Last Time," and British pop star Ed Sheeran co-wrote his duet with Taylor called "Everything Has Changed."
But even with all of these world-class collaborators, Taylor ended up writing 10 of the 16 songs on Red by herself.
"It's still very heavily songs I've written alone," she says, "but I feel like it's got a refreshing vibe to it because of the collaborations."
Look for Taylor to promote Red on television all this week starting with an interview on ABC's Good Morning America Monday and a performance there Tuesday.
She's also announced plans to perform on the 46th Annual CMA Awards Thursday, November 1 on ABC. She's up for Entertainer of the Year at that show, a trophy she's won twice before.
Copyright 2012 ABC News Radio