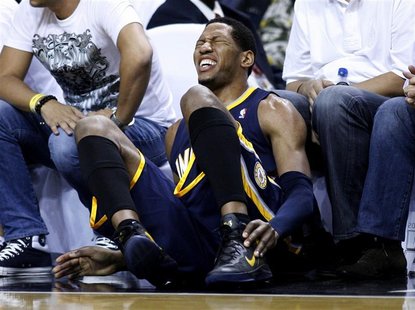 (Reuters) - The Indiana Pacers will launch their regular season on Wednesday without their top scorer, former All-Star forward Danny Granger, who has been sidelined "indefinitely" because of a sore left knee.
Granger, who averaged a team-high 18.7 points per game last season, was consulting with doctors on Tuesday to get a second opinion, the National Basketball Association team said.
The 29-year-old injured a tendon in his left knee during the 2011-12 Eastern Conference semi-finals against the Miami Heat and then aggravated the injury during his off-season workouts.
However, the knee problem improved after Granger had a platelet-rich plasma injection last month. He played in Indiana's final two preseason games and had been confident he would be healthy for the upcoming season.
A first-round pick by the Pacers in the 2005 draft, Granger has been Indiana's top scorer for the past five seasons. He averaged a career-best 25.8 points in 2008-09, ending that campaign as an All-Star and as the NBA's most improved player.
The Pacers, who lost to the Heat 4-2 in the 2011-12 Eastern Conference semi-finals, start the regular season against the Raptors in Toronto on Wednesday.
(Reporting by Mark Lamport-Stokes in Los Angeles; Editing by Rex Gowar)