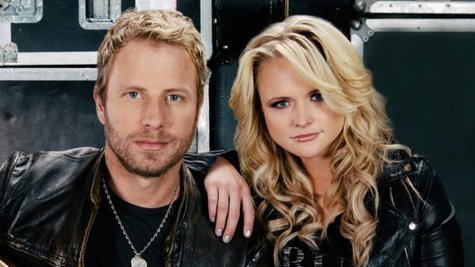 Miranda Lambert 's Revolution took the CMA Album of the Year trophy in 2010, and now she's in the running for that prize again Thursday night with Four the Record . Being honored for a full project means a lot to Miranda, who also writes much of her own material.
"I think all of us as artists put our heart and soul into albums, but you know, they're your babies," Miranda explains. "It takes all your energy to put together an album, and win you win Album of the Year it feels very validating, and it's a major deal for sure."
Miranda's 2013 tour mate Dierks Bentley is also up for Album of the Year with Home , but he thinks Miranda might take it again this year.
Dierks tweeted her, "You deserve album of the year #cma...but i still want it! good luck."
Making a project that ends up getting an Album of the Year nod is not an easy task though. Dierks worked hard to make sure Home had the best songs he could write or find that all fit together in a cohesive way.
He says, "You really have to go inside and really write about what's happened to you in your life at that moment."
Miranda and Dierks will square off against Lady Antebellum 's Own the Night , Eric Church 's Chief and tailgates & tanlines by Luke Bryan for the CMA Album of the Year trophy. They're all set to perform on the CMA Awards too. The event airs live on ABC Thursday night at 8 ET.
Copyright 2012 ABC News Radio