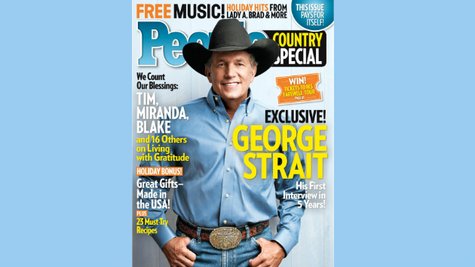 George Strait graces the cover of People Country 's December issue on stands Friday. In the cover story, Strait opens up about his decision to end his touring career with the The Cowboy Rides Away tour starting next year.
He says, "I had second thoughts about it, and third thoughts. Walking up on stage is still so much fun for me. Such a thrill… there's nothing like it. I'll miss that."
George also talks about his historic accomplishments in the music business with more than 65 million albums sold and 59 #1 hits under his belt since his 1981 debut.
"I've been blessed with the ability to sing, and that has taken me so many places I never would have gone otherwise," George says. "I've had great people around me from the beginning … and they never tried to make me someone I wasn't."
George's The Cowboy Rides Away tour kicks off January 18 in Lubbock, TX featuring opening act Martina McBride .
Copyright 2012 ABC News Radio