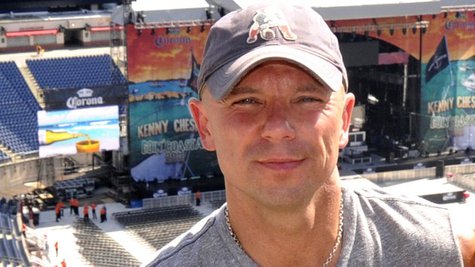 Kenny Chesney 's new album, Life on a Rock , lands in stores April 30, and he's lined up a special performance on NBC's Late Night with Jimmy Fallon that night to celebrate the release. Life on a Rock features a song called "Spread the Love," which Kenny co-wrote with reggae legends The Wailers . Kenny's Fallon appearance gives him a chance to perform the song with the show's in-house band, The Roots , featuring drummer ?uestlove .
Kenny says, "What ?uestlove and his guys do is beyond what most people would even begin to think of. They push all music beyond...and you can feel them getting under a song and really lifting it up."
Kenny thinks the hopeful message of "Spread the Love" will give some encouragement to his fans. He says, "I wanna take it to the world... But I wanna do it with people who musically can bring that higher sense of being to the song. Which is everything The Roots do, no matter who they're working with."
In addition to "Spread the Love," Life on a Rock also features Kenny's latest hit, "Pirate Flag."
Copyright 2013 ABC News Radio