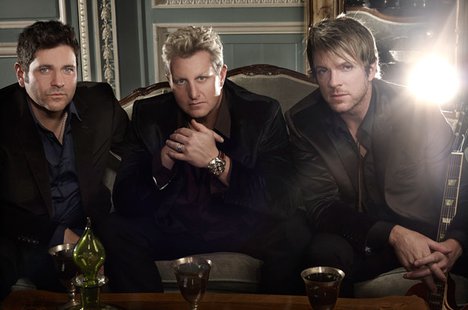 Rascal Flatts is heading off in a new direction for their upcoming studio album. The multi-platinum group is recording the album in Los Angeles with producer Howard Benson , best known for his work with Daughtry , Bon Jovi and Hoobastank among others. So far, the Flatts like what they're coming up with on the West Coast.
The group's guitar player Joe Don Rooney tells The Oakland Press , "We've recorded probably eight songs now, and really three or four of them are high on our radar right now. It kind of set the bar for us."
While Rascal Flatts feels like they have nothing to prove on this new project, it is important for them to keep growing creatively.
"We just want to make a great project," Joe Don explains, "and sonically we want it to sound different and do some songs we would have never cut, maybe, in the past and try to push ourselves and see what else we can come up with."
Rascal Flatts is also keeping the road hot this summer on their Live & Loud tour playing Detroit on Thursday.
Copyright 2013 ABC News Radio