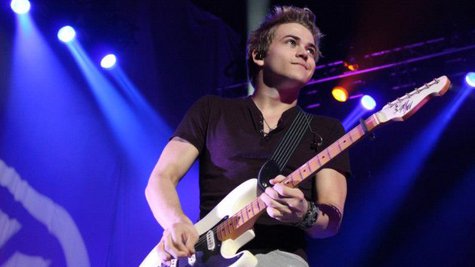 Hunter Hayes tends to process both good and bad news internally before he shows his reaction, but he couldn't contain his joy when he found out about his three Grammy nominations last December
"That was one of the few times where I legitimately showed it naturally 'cause I just, I couldn't help it," Hunter says. "That was the most excited I'd been in a long time."
Of course, Hunter was a presenter at the Grammy Nominations Concert Live!! in Nashville, and he got in touch with a lot of friends and family after the show.
Describing that night, Hunter says, "It was exciting, you know? It was definitely one of those things where you call everybody in your phone book and you kind of freak out a little bit."
In addition to his nods in the country categories, Hunter is also up for Best New Artist, which is one of the top prizes at the Grammy Awards.
Hunter says of that nod in particular, "I do realize how big of a deal that is, and how big, how broad of an area of music that it covers, and I'm shocked and completely honored to be considered as one of those this year."
Should Hunter accept that trophy during Sunday night's Grammy broadcast, he would be sure to thank the people who made his entire career possible -- his mom and dad.
"They uprooted everything and moved to Nashville on a dream, on a whim," Hunter explains. "My folks have done everything, everything to see me have the opportunities to do what I want to do."
The 55th Annual Grammy Awards broadcast live on CBS Sunday night at 8 Eastern.
Copyright 2013 ABC News Radio