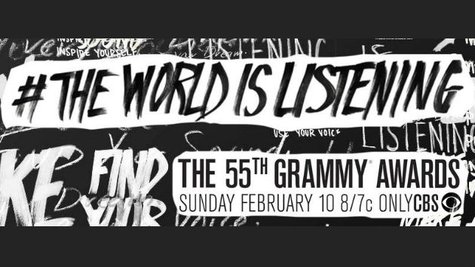 The 55th Annual Grammy Awards will be handed out Sunday night, and it's anyone's guess who will take home the hardware. Though Hunter Hayes faces stiff competition in the Best New Artist category going up against favorites fun. and Frank Ocean , he stands a better chance of triumphing in the country categories.
According to Yahoo! Music's Paul Grein , who is a member of the Recording Academy's Hall of Fame committee, Hunter's self-titled debut project has only one real competitor in the Best Country Album category -- Miranda Lambert 's Four the Record.
"Female artists for some reason tend to do well in this category -- over the years have done better than male artists," Paul explains. "So, I think Miranda Lambert will probably be the winner here. Hunter Hayes is strong, and he's nominated for Best New Artist and could pull an upset."
Over in the general categories, Taylor Swift has a shot at winning Record of the Year with "We Are Never Ever Getting Back Together," and her country cred could help her pull it off.
People music critic Chuck Arnold tells ABC News Radio of Taylor's chances, "She's won a ton before and this is a song that crossed genres. So, you know, you're gonna have the country block voting for this as well as the pop block."
Even if Taylor is shut out completely Sunday night, she'll still be a big winner because she's opening the entire Grammy broadcast. Those coveted performance slots are often worth more than a trip to the podium to collect an award.
Paul Grein explains, "If you have a great performance, that'll probably do more to sell records than to win. You know, the best combination is to both win and perform, but if you have to do one or the other, I'd say perform. "
Hunter and Miranda are both performing on the Grammy Awards along with Carrie Underwood , Dierks Bentley , and Zac Brown Band , while Tim McGraw , Faith Hill and Keith Urban will be there to hand out trophies. The show gets underway Sunday night at 8 Eastern on CBS.
Copyright 2013 ABC News Radio