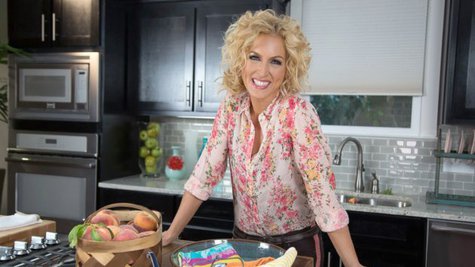 Today is the day we celebrate love with chocolates, flowers and other gifts, but Little Big Town 's Kimberly Schlapman likes to celebrate Valentine's Day with food. The singer, who has her own cooking show on GAC, recalls a special Valentine's Day from her college days that involved some time in the kitchen.
"My roommate and I, we wanted to cook for our boyfriends," Kimberly tells ABC News Radio. "We thought it would be fun to dye everything red."
The girls went the breakfast route for their boyfriends, so the red food items included grits, scrambled eggs and strawberry muffins. The muffins turned out great while the grits took on a pink color. The eggs were another story though.
Kimberly says with a laugh, "We got it all on the plate and we all sat down and we looked at the red scrambled eggs, they were really gross." (LITTLE BIG TOWN AUDIO IS EXCLUSIVE)
Luke Bryan is celebrating this Valentine's Day with his wife Caroline with an overnight mini-vacation in downtown Nashville, away from their two young boys. They'll get a nice dinner and a hotel room for the night, which allows Caroline to enjoy her favorite Valentine's Day treat.
Luke says, "Her biggest thing is, 'All I want to do is be able to sleep in one morning,' and she gets to sleep in and that's her Valentine's present."
Justin Moore admits his wife Kate trumps him every year when it comes to Valentine's Day gift-giving.
"She's a lot better at thinking of the sentimental things," Justin explains. "It's not that I don't try. I just, I don't have that -- the brains she does for that kind of thing."
Even though he usually falls short, Justin adds, "I keep trying every year."
Billy Currington will never forget his first valentine back in first or second grade back home in Georgia. His mom sent him to school armed with a box of chocolates after telling him, "You've got to get your girlfriend something and you've got to go give it to her."
Billy succeeded in finding his little valentine's classroom and getting her to come to the door, but that's where nerves got the best of him.
He says, "I remember I handed it to her, and I took off running."
Keith Urban and Nicole Kidman 's love affair is still going strong years after they tied the knot in 2006. A big part of the reason they're celebrating another Valentine's Day is their commitment to making each other a priority. That kind of devotion takes work after several years together.
Keith explains, "We start relationships, we're so capable of honoring each other at the beginning of a relationship with cards and flowers and chocolates and attention and affection and priority. And then all of that all too many times starts to drift away."
He adds, "I mean for me, I think a lot of it has to do with just staying present."
Copyright 2013 ABC News Radio