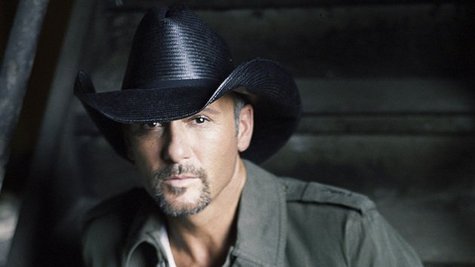 Tim McGraw recruited Taylor Swift to sing and Keith Urban to play guitar on the song "Highway Don't Care" on his just-released album, Two Lanes of Freedom . He knew he wanted both of them on that track from the moment he started working on it. Tim had actually been looking for an opportunity to work with Keith for a while now.
"We still want to find one to sing together on," Tim tells ABC News Radio. "It's just finding the right thing. And I don't like to force those things. To me, if you're gonna work together, let's find something that organically works."
Having Keith play guitar on "Highway Don't Care" was a real honor for Tim though, and Tim says of Keith, "He's just one of the greatest. I think he's just such an asset to our music. He's just one of the guys that we should prop up and say that this is somebody we're proud of."
As for recording the song with Taylor, Tim was glad to find a song that didn't cast Taylor as his love interest. Instead, Taylor's vocal part is meant to be a song playing on the radio within the song.
He says, "That's why this worked so perfect, 'cause her vocal part comes from a whole different place. It has nothing to do with the sort of the two main characters of the song."
The fans are latching on to "Highway Don't Care" in a big way. The track debuts this week at #1 on the Billboard Country Digital Songs chart, which tracks song downloads.
Copyright 2013 ABC News Radio