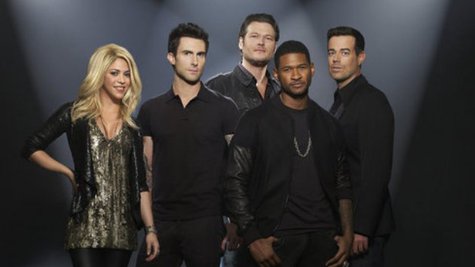 When the new season of The Voice premieres next month, viewers will see a new panel: Cee Lo Green and Christina Aguilera are out -- temporarily -- and Usher and Shakira are in. And veteran coaches Blake Shelton and Adam Levine say they want to make sure that the two newbies' entrance onto the show isn't painless and easy. In other words, they need to haze them.
"You know, Adam and I honestly have been texting back and forth a little bit, like, 'Man, we gotta give these people some crap,'" Blake says in a new video promoting the show's new season. "They can't just be coming in here and acting like it's all normal and this is where they belong. 'Cause they don't. They're outsiders right now."
In that same video, Adam asks Blake, "So, we got some new blood here. Should we haze 'em?" Blake responds, " Yes , we should haze 'em!"
Of course, Blake and Adam are just joking. Speaking about Usher and Shakira, Adam just told the Canadian Press , "We obviously respect the hell out of them and their careers. It's been fun. They have a quick capacity to learn so it's been...an effortless transition."
The new season of The Voice premieres March 25 on NBC.
Copyright 2013 ABC News Radio