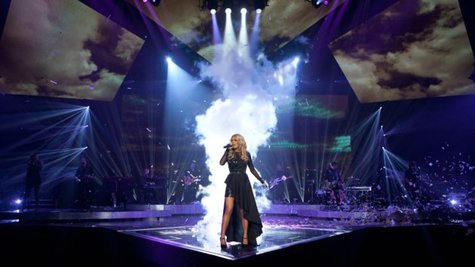 Carrie Underwood 's Blown Away tour features her most dramatic production to date, and she'll be on the road with the show through May. For those who can't catch the tour in person or just want to watch it over and over again, Carrie hints that a DVD of the show may be in the works. She and her team keep video footage of just about everything Carrie does, and that includes her concerts.
She says of a possible DVD release, "I think that would be really great. There's no concrete plans to do anything with it, but it's always nice to have that stuff in your back pocket, 'cause stuff always comes up where people need more footage or need concert footage or whatever."
Carrie adds, "It's definitely, I guess, always on the table for us to do something like that."
Carrie is taking her show back to the U.K. next month with two dates in Ireland and an appearance at the C2C: Country to Country festival at London's 02 Arena too. Carrie performed in England and Australia last year, and you can expect to see more international dates on her schedule in the coming years.
Says Carrie, "Throughout the rest of my career, I feel like there will be a really, really big growth for country music artists not just being in America."
For a full list of Carrie's tour dates, go to CarrieUnderwoodOfficial.com .
Copyright 2013 ABC News Radio