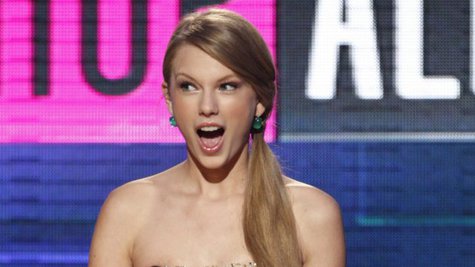 The latest viral video trend on YouTube is the "goat remix," where popular songs -- usually ones that contain "Oh's" and "Ah's" -- are intercut with footage of goats vocalizing loudly in an eerily human manner. But at least one top artist approves of the fact that she's now duetting with goats: Taylor Swift
Taylor tweeted , "In celebration of 'I Knew You Were Trouble' staying at #1 for a 6th week at pop radio....," and then added a link to "I Knew You Were a Goat," one of the most popular "goat remix" videos. Fans have responded with comments praising Taylor for having a sense of humor about the whole thing.
Another artist who likes Taylor's "goat remix" is Kelly Clarkson . When Carrie Underwood tweeted that she thought the "goat remix" of her own song "Blown Away" was hilarious and awesome, Kelly replied , "Oh my gosh the Taylor Swift one is hilarious as well! I want one of those goats!"
When Carrie then sent her a link to a "goat remix" of Kelly's own hit, "Since U Been Gone," Kelly loved it, tweeting , "hahahaha!! Best part is after the goat yells it cuts to me standing there looking like 'what the hell just happened?' haha!"
Copyright 2013 ABC News Radio