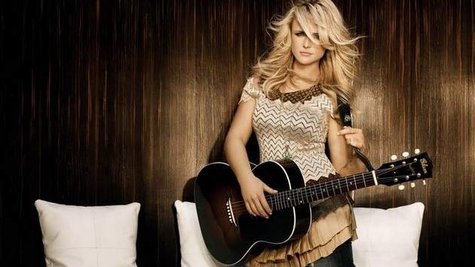 Miranda Lambert isn't a fan of Chris Brown , and she doesn't care who knows it. In a new interview for the cover of Redbook 's February issue, Miranda says she stands behind her tweets about the rapper, who assaulted his then-girlfriend, pop star Rihanna ,in February of 2009, just before the Grammys. The pair have since been spending time together again as a couple.
"I wanted everyone to know that I don't agree with the message it's sending to young women," Miranda says. "It's not okay. At all. To be celebrated after doing something like that. I don't think it's right, I never will, and I will stand by what I said 'til the day that I die."
After last year's Grammy Awards, Miranda tweeted she was upset the R&B singer got two performance slots on the show, saying, "He beat on a girl…not cool that we act like that didn't happen."
Of course, Miranda has seen the effects of domestic violence first-hand. Her parents were private investigators, and when she was growing up, her family took in women and children who had been abused. That experience led Miranda to write her first top-10 single, "Gunpowder and Lead."
Copyright 2013 ABC News Radio