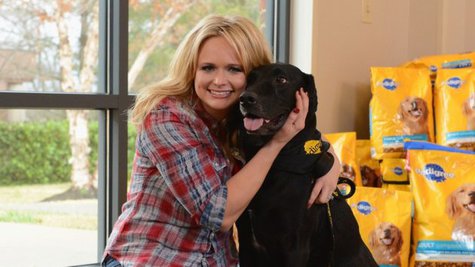 Miranda Lambert is an extremely vocal advocate for America's shelter dogs, and now she's teamed up with Pedigree to have an even bigger impact with the Pedigree Feeding Project. The initiative supplies pet shelters with 100 percent of their dog food needs at no cost. It's already proven to be a big success in Nashville and Chicago, and now Miranda is asking people to nominate their community at Facebook.com/Pedigree to be the next city to benefit from the project.
Miranda says, "I'm amazed every day by the unconditional love I receive from all of my adopted dogs. That's why it means so much to me to partner with Pedigree, a brand that truly believes in finding dogs loving homes as much as I do."
Shelters benefiting from the Pedigree Feeding Project are able to redirect the money they would have spent on dog food to expanding their pet adoption programs. The program also allows the shelters to make their facilities more like a home so the pets will be ready transition to life with a family when they are adopted.
The next communities to benefit from the Pedigree Feeding Project will be announced later this year.
Copyright 2013 ABC News Radio