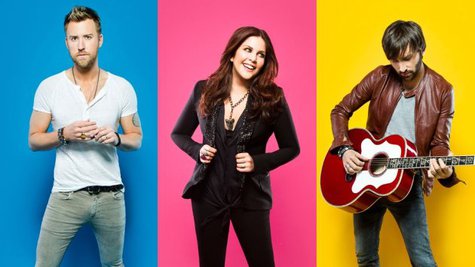 Lady Antebellum taped their CMT Crossroads performance with Stevie Nicks Tuesday night in Los Angeles, and the show will premiere in the coming months. While in town for the taping, Lady A is also getting some serious hang time with the rock legend.
The group's Charles Kelley says, "She invited us to her house one night. So, we're gonna go hang out with her at her house, which I'm gonna die."
It was actually Stevie's idea to do the CMT Crossroads with Lady Antebellum, and they all hopped on a conference call a few weeks back to prepare the show. The members of Lady A were floored that Stevie is a big fan of their music. Hillary Scott , who is expecting her first child in July, was very taken with Stevie's spirit in that call.
"I joked, and I'm kind of not kidding, with my husband when I got home after the phone call, I said, 'I really kinda want her to be the honorary godmother of our child,'" Hillary says with a laughs. "She was just this amazing presence and person to talk to."
Charles cut his musical teeth on Stevie's classic album with her band Fleetwood Mac , Rumours . He discovered the LP in his parents' record collection, and Charles says, "I just was like, 'Oh my gosh. Who in the world are these guys?' Just played it over and over in my room."
Charles adds that performing this show with Stevie Nicks is a real full circle moment for him. We'll keep you posted when CMT announces an airdate for this installment of Crossroads .
Copyright 2013 ABC News Radio