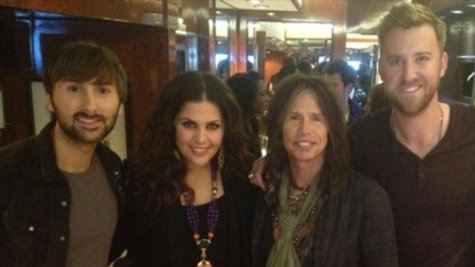 Steven Tyler was in the audience for Lady Antebellum 's CMT Crossroads performance with Stevie Nicks Tuesday night in Los Angeles. The Aerosmith frontman posted a picture with Lady A on his website after the show, with the note, "The whole night was a magic moment."
Lady Antebellum and Stevie Nicks performed Lady A's new song "Golden" during Tuesday night' taping. According to Rolling Stone , Stevie compared the song to the Fleetwood Mac classic "Landslide," which Nicks wrote and Dixie Chicks made a #2 country hit in 2002. "Golden" appear on Lady A's upcoming studio album, and Stevie says she cried after listening to the song for just a minute-and-a-half. When Charles Kelley of Lady A heard Stevie say that onstage, he said, "Now we might cry."
The installment of CMT Crossroads will air in the coming months.
Copyright 2013 ABC News Radio