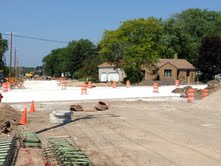 SHEBOYGAN, WI (WHBL) - A key roadway on Sheboygan's north side should see its detour come to an end by of the work week. For the past several weeks, road work on Eisner Avenue has caused its intersection with Lakeshore Road/North 15th Street to be closed to traffic.
In an update last week, construction officials say the last work on this part of the project should get underway today. If all goes as planned, then the intersection will open back up to traffic Thursday morning. All this is weather permitting, and could be delayed if rain forces stops in work.
The rest of the Eisner Avenue project is still ongoing between 8th and 21st streets, so travel on the road will have limitations at times through the rest of the summer to just local traffic.