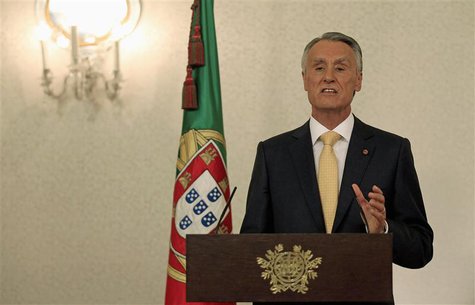 By Shrikesh Laxmidas
LISBON (Reuters) - Portugal's president has soothed investor concerns by keeping the government in place until 2015, but unresolved tensions over austerity mean the country's political crisis has not been laid to rest.
Essentially the immediate symptoms of crisis have been treated, but the cure for the underlying condition remains elusive.
President Anibal Cavaco Silva on Sunday ruled out a snap election and kept the center-right coalition government in place until the end of its term. This calmed some nerves about Portugal's ability to work its way out of European Union/International Monetary Fund bailout in mid-2014.
After an internal crisis threatened to break-up the coalition and talks for a "national salvation" pact with the opposition Socialists collapsed on Friday, the president's decision not to call an election was welcomed by markets.
Yields on Portugal's benchmark 10-year bonds

"On the face of it, one might construe this (decision) to be a positive in so much as it is seen reducing the risk of a reform hiatus," analysts at Rabobank wrote in a research note.

"But, this maintenance of the status quo does nothing to address the divergences of opinion within the ruling coalition which are likely to return to the fore before too long."

Cavaco Silva warned that the coalition partners would have to keep together to complete the bailout program, allow Portugal to return to the markets and recover from its biggest economic slump since the 1970s.

Prime Minister Pedro Passos Coelho pledged to do just that, saying the country needs to recover the confidence that had been dented by the crisis.

"We will rebuild the confidence without raising any doubts about the process we are carrying out, saying 'yes, we want to complete the assistance program on the agreed date'," he said.

Brussels also hailed the latest developments.

"We welcome the importance the president has placed on the successful completion of the economic adjustment program and will continue to work with the government and support Portugal's efforts to create conditions for a sustained recovery, growth and job creation," a European Commission spokesman said.

But there is a lot that remains unclear.

The dispute within the coalition started when Foreign Minister Paulo Portas, the leader of junior coalition partner CDS-PP party, resigned.

He objected to the appointment of former treasury secretary Maria Luis Albuquerque, an austerity advocate, as finance minister to replace Vitor Gaspar - the architect of the austerity drive in the last two years.

Passos Coelho's idea - before the president's call for the now dropped "national salvation" deal - was to make Portas his deputy and put him in charge of negotiations.

The premier on Monday confirmed this is still the plan, although he is yet to formalize the request to the president who will then announce the final terms of the reshuffle.

If the cabinet shakeup goes ahead, it remains to be seen how Portas will deal with a finance minister whose appointment he criticized and whether he could still force a standoff with the lenders on further austerity.

In a sign that Portas' likely promotion could be seen as a risk, Portugal's 10-year bond yield rebounded from session lows of 6.41 percent after the premier's comments.

"Here we are, 22 days after Finance Minister Vitor Gaspar resigned and triggered the crisis, with the political crisis far from solved - it was simply stored away in a corner for now," Publico daily newspaper said in an editorial.

The weekend events have done little to steer Portugal away from the potential of having to request a second bailout, which some fear could imply losses for private debt holders.

Rabobank's analysts warned against interpreting Monday's bond rally "as signaling the all clear in terms of Portuguese political risk and the threat this represents regarding the potential need for additional official creditor support."

Lisbon has already been forced to request a delay in the eighth review of the bailout by its creditors, originally scheduled to start last week, until the end of August or early September.

(Additional reporting by Andrei Khalip and Daniel Alvarenga in Lisbon and Martin Santa in Brussels, Editing by Angus MacSwan)