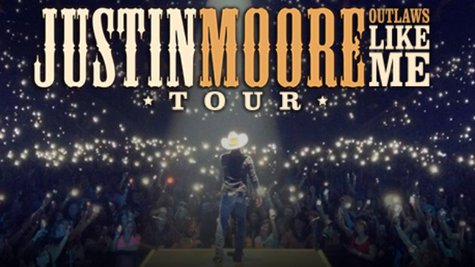 Justin Moore 's career is on a roll with his last single, "Til My Last Day," topping the country chart at the end of last year. Both of his albums, Justin Moore and Outlaws Like Me , have been certified gold, and now he's launching his first headlining tour Thursday night in Pikeville, KY.
"I'm as excited about the spot we're in in our career as I've ever been," Justin says. "It just feels different right now for us, you know."
Ticket sales are right where Justin and his team expected for his Outlaws Like Me tour, and Justin is excited to go out and "test the waters" as a headliner. Having the responsibility of his own tour makes Justin a little nervous too.
He says with a sly smile, "If things went wrong before or we didn't sell any tickets, I'd just blame it on who I was out with. I'm like, 'Ah, it's not my tour."
Justin adds, "In all seriousness, it's really, really exciting."
"Cowboys and Angels" singer Dustin Lynch and country newcomer Jon Pardi are in the opening slots on the Outlaws Like Me tour. Dustin expects to perform most of his self-title debut album for fans in his 40-minute set every night.
He tells ABC News Radio, "It's fun for the fans that have bought the album, and know all those songs. They expect us to play all those."
Dustin considers Justin Moore to be one of the finest vocalists and best entertainers working in country music today.
"It's amazing to me how he can take a crowd throughout highs and lows throughout the show," Dustin says of Justin. "You know, he's really good at moving a show like that. I've got a lot to learn from that."
Jon Pardi has just 18-minutes to perform for fans on the Justin Moore tour, but he plans to give it everything he's got.
"I'm just glad to be a part of it," Jon says.
Copyright 2013 ABC News Radio