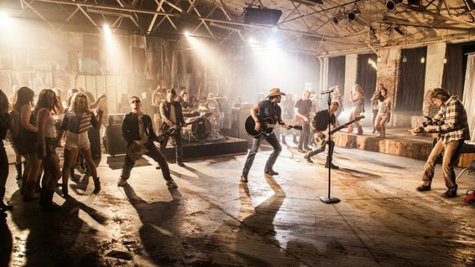 Jason Aldean recruited a lot of his famous pals, including Luke Bryan , Hayden Panetteire , Lady Antebellum , Jake Owen , Dierks Bentley , Florida Georgia Line and Thomas Rhett , to help him celebrate the Joe Diffie era with his new video "1994." The clip features the stars hopping in the "Diffieizer," a video booth that transports all of them back to the mid-'90s.
Jason says of the video, "There are a lot of ridiculous dance moves, a couple mullets, some suped up cars and a lot of other really funny reminders of the mid-90's…the whole thing cracks me up."
Jason actually cracked up the first time he heard "1994," and he's glad to release a carefree single to radio.
"We've never really put anything out like that that was that, really kind of quirky, and just tongue-in-cheek sort of thing," Jason tells ABC News Radio, "which is part of the reason I wanted to put the song out."

The "1994" video is posted exclusively at ETOnline.com through the weekend. It's the third single from Jason's platinum-selling album, Night Train .
Copyright 2013 ABC News Radio