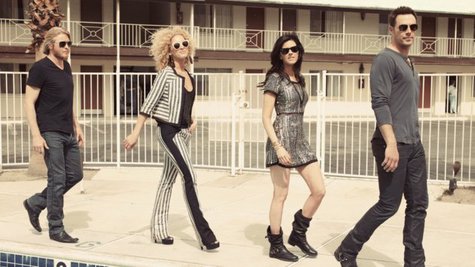 Little Big Town will hit the road with their pal Keith Urban in July, and they're keeping up with his gig as a judge on American Idol this season too. Even though country artists regularly top the overall album sales charts and sell out stadiums, a lot of people out there still have ill-informed preconceptions about the genre. Little Big Town's Jimi Westbrook thinks Keith is doing a great job shattering those negative perceptions with his Idol gig.
Jimi tells ABC News Radio, "He represents country music very well, too, because people stereotype us sometimes. I think his intelligence shows through, and I love it. I loved watching him in that moment. He's really great at it."
Jimi adds that Keith's love of music really shows through in his comments, and Jimi's wife and band mate Karen Fairchild feels the same way.
"He's looking for something authentic, period," Karen says of Keith's judging style. "He's more interested, you can tell, in someone being connected to what they're singing and saying and being all in it, and he gives great advice."
Given his quest for authenticity, Karen isn't surprised Keith has been drawn to one Idol finalist in particular this season -- country-soul hybrid Kree Harrison .
Karen says, "She's like, in it. It's all a soul connection for her, and yes, does she sing perfectly and beautifully, yes, but it's like, she's in the moment, and it's so authentic."
No matter what Keith or Little Big Town think of Kree, her fate now rests in the hands of the voting public. Find out if Kree makes it to the next round when this week's results are revealed on American Idol , Thursday night at 8 Eastern on Fox.
Copyright 2013 ABC News Radio