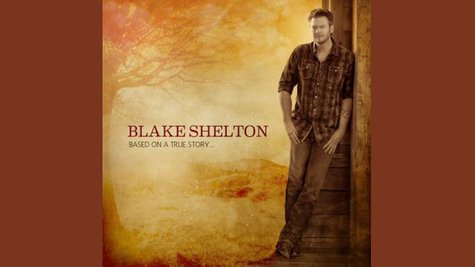 Blake Shelton chose to name his brand-new album Based on a True Story… because he's either lived through or is currently experiencing the emotions found in every song on the project. If you take a listen to those songs, it's pretty obvious Blake is loving life these days. He's about to celebrate his second wedding anniversary with Miranda Lambert , and his career is on a roll thanks to his latest hit "Sure Be Cool if You Did."
When asked about the mostly happy and romantic song selections on the new album, Blake says, "It was just my mindset, I think, overall." He adds, "I'm very content with my life, which, I mean, who wouldn't be? I know how lucky I am. I'll be happy if it stays like this for a long time."
There are a few sad songs on Based on a True Story… because this is still a country album, but Blake isn't wallowing in that melancholy vibe like he has in the past.
"I've had those years where I made those type of records, and I don't want to, but probably will have them again," Blake explains. "Something will happen one of these days, and it'll be a part of my music. Right now, it's just everything's pretty awesome."
As for the album title, Blake worked to come up with something creative since he didn't want to just name it after a song on the album.
He says, "I listened to it, and I finally just thought, 'Man, this kinda is my life from start to finish.' I just thought, 'That's what we'll call it. We'll just say it's Based on a True Story .'"
The new single from Based on a True Story… is "Boys 'Round Here," featuring Miranda Lambert's group Pistol Annies on background vocals.
Copyright 2013 ABC News Radio