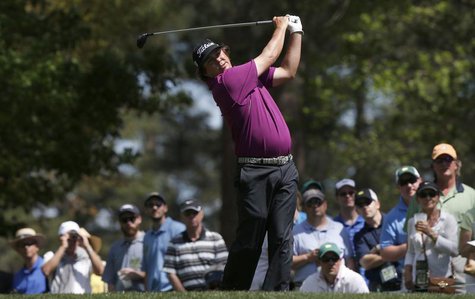 (Reuters) - Because of his unflappable and ultra-laidback persona, you would never guess it but Jason Dufner has been seething inwardly for much of this year while continually struggling with his putting.
The American world number 20, who defends his title at the Byron Nelson Championship in Irving, Texas, this week, has not recorded a single top-10 finish in 11 starts on the U.S. circuit this season, mainly because of his poor form on the greens.
"I don't show it, but obviously it's going on inside," the seemingly emotionless Dufner told reporters on Wednesday while preparing for Thursday's opening round at the TPC Four Seasons Resort Las Colinas.
"I've played a lot of rounds this year with frustration and anger on my mind. It's not much fun shooting 74s and 75s ... that kind of throws your tournaments off.
"I've got a good way of hiding the good and the bad, but there has been more anger and frustration this year than there was last year, for sure."
Just over 12 months ago, Dufner produced a purple patch of form that resulted in two PGA Tour victories in three weeks, a run highlighted by his marriage to girlfriend Amanda on the Saturday after his first triumph at the New Orleans Classic.
This year, however, he has battled, missing two cuts in his first seven events and finishing no better than joint 12th at the WGC-Cadillac Championship in March.
"Putting really kind of beats me down throughout the week of 72 holes," said Dufner, who languishes 153rd in the PGA Tour's 'strokes gained - putting' charts after placing 78th in that category in 2012.
"Even when I play good rounds, I feel like I've left numerous, makeable putts, so I've got to get better at putting.
"Through the week, when you're continually feeling like you're shooting the highest score that you can each day, that beats you up pretty good."
WHEN PUTTS DROP
Dufner, who closed with an 80 at last week's elite Players Championship where he tied for 62nd, knows as well as anyone that titles can only be won when the putts start to drop.
Three weeks after clinching his maiden PGA Tour title at the 2012 New Orleans Classic, he sensationally drained a 25-foot birdie putt on the 72nd hole to clinch victory by one shot at the Byron Nelson Championship.
"It was a little bit right-to-left, downhill. I just had a really good feel for that putt," Dufner, 36, recalled. "Two wins in a month and to get married on top of it all. You couldn't really ask for much more, personally or professionally."
Since those heady days on the PGA Tour, the laidback Dufner has become something of a cult figure - largely because of the 'Dufnering' craze which has gone viral on social networking websites in recent weeks.
Two months ago, Dufner visited a school in the Dallas area to help promote the Byron Nelson Championship and a picture was taken of him apparently nodding off as he lay with his back to a wall, arms by his sides and legs stretched out in front of him.
"I was just sitting and somebody decided to take a picture and put it on the internet," he explained. "The guys on Tour had a go at it with me and then it went viral through Twitter and social media and websites, so it's been good exposure for me.
"I didn't take it too seriously. Like most things in my life, I don't take things too seriously. But it's been a good response and I think people have had a kick out of it."
Asked what had been the most unusual 'Dufnering' picture he had seen, Dufner replied: "One guy did it up in, I think it was a C-130, where they transport tanks for the military.
"They had the back hatch down and he was sitting on the edge and they were up 20, 30,000 feet in the air. That was a unique spot to do it."
Dufner will launch his Byron Nelson Championship title defense on Thursday in the company of fellow Americans Matt Kuchar and Keegan Bradley.
(Reporting by Mark Lamport-Stokes in Los Angeles; Editing by Frank Pingue)