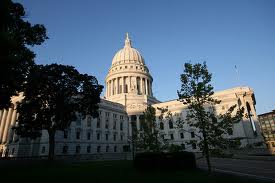 MADISON, WI (WTAQ) - The president of the Wisconsin Senate and one of his GOP colleagues want to remove a proposed state budget item to weaken consumer protections for rent-to-own customers.
GOP Senate President Mike Ellis of Neenah and Green Bay Senator Rob Cowles asked the two chairs of the Joint Finance Committee not to take up the rent-to-own changes Thuesday as scheduled.
Instead, Ellis and Coles say it should be more fully debated as a separate bill.
Among other things, Governor Scott Walker's budget plan would let rent-to-own contracts leave blank spaces for terms like interest rates, that could be filled in after customers sign them.
The total price for eventually owning a rental item must still be disclosed.
Even so, Milwaukee Assembly Democrat Jon Richards says it's like having people sign blank checks.
Republican Brookfield Representative Dale Kooyenga said he did not think the blank spaces were anyone's intention. He said he still supports the provision, but he'd move to require rent-to-own firms to spell out their terms before customers sign for them.
The Legislative Fiscal Bureau says the measure would prevent spouses from learning that their husbands-or-wives signed to rent-to-own contracts – even though spouses remain liable under Wisconsin's community property law.
Also, state officials could not close centers which violate disclosure laws on purpose.
Walker's office did not comment on his proposal.
A spokesman for Rent-a-Center said his company would never ask people to approve terms without knowing them in advance.