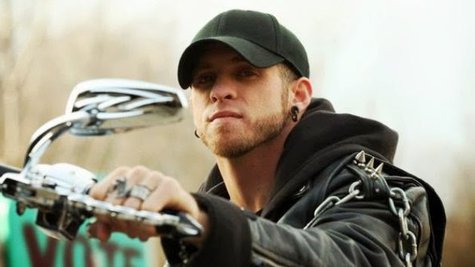 Brantley Gilbert did all of his own stunts in the "More than Miles" video, and it earned him a trip to the hospital.
Towards the end of the clip, Brantley trashes a motel room in frustration over being away from the woman he loves. At one point, he breaks a mirror on the wall with a chair before punching a framed picture on the wall with his bare first. Since they filmed the video in a cheap motel room, Brantley assumed that picture on the wall was framed using plexi-glass. It turns out he was wrong.
Brantley tells ABC News Radio, "It was real glass. I had to get four stitches. The blood you see in the video is real, like, when it shows my hand and it's starting to drip. That was the beginning of a flood."
Brantley ended up going to the hospital right after the shoot to get his hand stitched up. He ran into some more trouble trying to go through the metal detector at the entrance to the emergency room.
Says Brantley, "I'm wearing my biker jacket, you know, I got chains and everything on it. But I had my brass knuckles and something else with me. I just stopped dead in my tracks in front of the cop, and handed it to one of our interns. I was like, 'Dude, walk that back to the car.'"
The cop saw Brantley give those weapons to his intern and asked if he had any more weapons on him.
Brantley recalls with a laugh, "I said, 'Man, to be completely honest with you, I don't know.'"
Luckily, the cop let Brantley go in to get treated. He adds, "It was hilarious."
"More than Miles" is included on Brantley's current album, Halfway to Heaven .
Copyright 2013 ABC News Radio