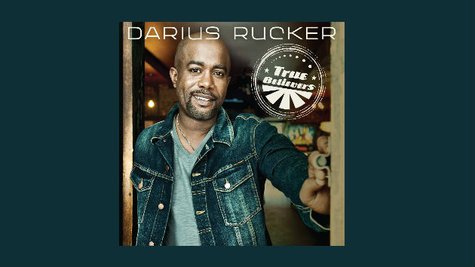 Darius Rucker bows at #1 on Billboard 's Country Albums chart with his latest release, True Believers . The set sold more than 83,000 copies in its first week, according to Nielsen SoundScan, thanks in large part to Darius's latest hit, "Wagon Wheel."
As for the rest of True Believers , Darius wants fans to know the other cuts on the album, like "Miss You" or "I Love You Still," come from a very honest place.
"I think the truer the record the better," Darius says. "I was about as honest as I could be with this record."
Darius will continue promoting True Believers with performances of "Wagon Wheel" on both ABC's Good Morning America and the 2013 CMT Music Awards on Wednesday, June 5. He's also appearing on The Ellen DeGeneres Show June 11.
In other Darius news, he'll be on hand at Nashville's W.O. Smith School Monday as the CMA's Keep the Music Playing initiative sponsors an eye-care clinic for students in need. The students will receive free comprehensive eye exams and new glasses. Darius will also share with the students how maintaining healthy vision has helped him both personally and professionally.