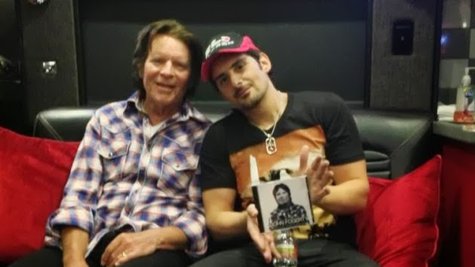 Rock legend John Fogerty 's new album, Wrote a Song for Everyone , is now in stores featuring collaborations with Keith Urban , Miranda Lambert and Brad Paisley among others. John teamed up with Brad on the song "Hot Rod Heart" for the project, and the two have known each other for a while. Brad considers John a "great man" and "a tremendous guitar player." That's why Brad was a little taken aback at John's guitar set up in the studio when they recorded "Hot Rod Heart."
Brad says of John, "He's actually a fan of my guitar playing in a way that's very, very flattering to me. He's bought the same amp and guitar set-up that I use, and when we recorded our song together, he used the same exact amp style and bought a Crook Telecaster like I play and got a bender put in it just like I have."
Brad admits it was bizarre, but flattering seeing one of his own heroes take that kind of time to study his guitar set-up.
He says, "Probably no finer compliment I have ever had as a player than to see John Fogerty want to sort of purchase something I use."
Zac Brown Band also performs with John singing the Creedence Clearwater Revival classic "Bad Moon Rising," and Alan Jackson joins John on a new version of "Have You Ever Seen the Rain."
Copyright 2013 ABC News Radio