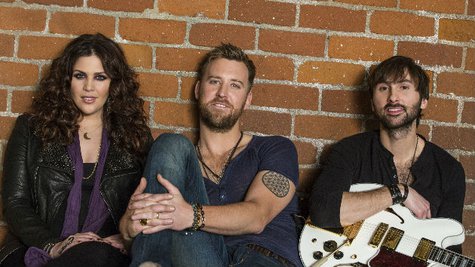 Lady Antebellum has recorded a cover of Kenny Loggins ' "Celebrate Me Home" for ABC's Home for the Holidays campaign honoring military veterans this holiday season. Five U.S. veterans with hopes of breaking into the entertainment field have written, directed and produced short films debuting Monday on ABC.com. Writers, directors and producers with top ABC shows like Grey's Anatomy and Nashville worked alongside the veterans to make the clips.
Lady A's Dave Haywood tells ABC News Radio, "It allows these veterans to get back and have a job working and be able to network and kinda get back to work, so it's a whole other level of saying thank you as opposed to just saying thanks."
Each short film revolves around a veteran coming home for the holiday season, and that theme hits close to home for Lady Antebellum's Hillary Scott . Her best friend's husband serves in the Navy, and he recently came home to surprise his wife and their son for the boy's first birthday.
Hillary says, "She texted me the video of when he walked through the front door of their house, and they had no clue. And I just started bawling. It's just the most pure joy moment that you capture when you see that, especially when they're surprising them. It's amazing."
Contributing a song to Home for the Holidays was a no-brainer for Lady A since they meet so many servicemen and women at their concerts. The veterans often tell the band members their music helped make serving so far from home a little more bearable.
Lady Antebellum's Charles Kelley says, "I think that's the coolest thing, just thinking that there may be a song out there that's getting somebody through a tough time, or a song that maybe fires 'em up and, you know, kind of brightens their day."
Look for ABC's Home for the Holidays campaign to be featured across the entire network's news and entertainment programming this holiday season.
Copyright 2013 ABC News Radio