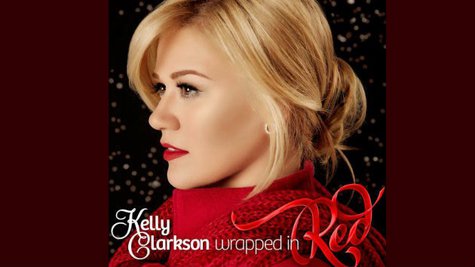 While Kelly Clarkson has released a few holiday songs over the years, it was a dream come true for her to finally record an entire Christmas album. Wrapped in Red , featuring a mixture of classic tunes and brand-new songs, arrives Tuesday, and Kelly says of the disc, "I've never been more proud of a project."
The reason why Kelly is so excited about Wrapped in Red is that for once, the versatile vocalist doesn't feel as though she's limited to one musical genre. "I think in [the Christmas] category...you're not asked, 'Well, are you pop? Are you country? Are you R&B? Are you rock?' You're not asked that. It's just a Christmas record," says Kelly. "So it's like, 'Aw, finally! Nobody's gonna ask me all that.' It's just your chance to be free on that, so I'm just really excited."
As a result, Kelly was able to explore all different kinds of musical genres that she normally wouldn't get a chance to. "It's got some classic kind of rock 'n roll, like, kinda Chuck Berry stuff," she explains. "It's got some bluesy Etta James or Aretha ...it's got every genre of music you could want, because that's kind of me. We love the classics. We catered to the classics, and it's so good!"
But along with the classics, like "Silent Night," "Have Yourself a Merry Little Christmas" and "Run Rudolph Run," Kelly has also included some original songs, including the first single, "Underneath the Tree," as well as "Winter Dreams (Brandon's Song)," which she wrote for her new husband, Brandon Blackstock . And Kelly says she was nervous at first about writing songs that would stand up alongside songs that have lasted through generations.
"I thought it was gonna be the hardest [thing], like climbing a mountain," she says. "I'm like, 'What do you write about without it sounding super-cheesy?' 'Cause Christmas records, I mean, they're cheesy and they're supposed to be. It's the holiday spirit and everything!" But Kelly says another point of pride in the album is how well those originals turned out.
"This is gonna sound horrible, but I feel like we did a really great job," she says. "All the writers that I worked with are ones that I know really well, and we did a really good job of skirting that line of, like, cheesy enough to...fit in with classic songs, 'cause I love the classics, and we also did something to where there's some new [contemporary] vibes on there as well."
And Kelly hopes that what she and her collaborators came up with will be popular this holiday season, and stand the test of time -- just like the best Christmas records have always done.
"It's such a funny thing to make a Christmas record because they last forever," says Kelly. "So, it's like, OK, you want it to be classic, to last, but you also want your time to be there. Like, where you were in your head musically at that moment."
Kelly will promote Wrapped in Red with her very own NBC special, Kelly Clarkson's (Cautionary) Christmas Tale, which will be taped in Las Vegas on Wednesday and air December 11. Loosely based on Charles Dickens ' A Christmas Carol , the special will feature Kelly learning the true meaning of Christmas. She told Billboard , "I wanted to tell a real story, make a new classic, not just do some skits that aren't really related."
Copyright 2013 ABC News Radio